I have been a fan of Barry Schiff since I began taking flight lessons. Most flight training material that I found seemed to always fall short of truly explaining the whys of the facts stated. As outstanding flight instructors do, Barry offered more than information in his Proficient Pilot column in AOPA Pilot magazine; he offered insight.
Barry was rated Airline Transport Pilot at 21. He accumulated over 27,000 hours in more than 300 types of aircraft, earned every FAA category and class rating (except airship) and every possible instructor's rating, and retired from TWA in 1998 after a 34-year career.
More than just a pilot and flight instructor, Barry achieved excellence in writing as well. Over 1,500 articles published in 100 magazines earned him 10 journalism awards from the Aviation/Space Writers Association and four special awards from the FAA. He also authored many books to share his insights with pilots.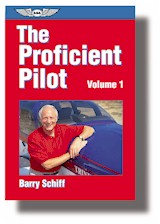 Encouraging people to learn to fly is personal for Barry. In October 2011, he announced a writing contest with a $3000 scholarship prize. The deadline for the contest is December 15, 2011. Get writing!
Recognizing that pilots who introduce people to flying are very special, Barry is offering his entire set of books to one pilot or flight instructor who introduces 5 or more girls or women to flying in the United States during the 2012 Women Of Aviation Worldwide Week (March 5-11 2012). What's more, he will inscribe the books and personally send them to the winner. Priceless!
I am thrilled to know that one of the many generous and dedicated U.S. based pilots and flight instructors who participate to the 2012 Women Of Aviation Worldwide Week celebration will receive a lifetime of Barry Schiff's aviation wisdom. Thank you, Barry, for this special gift.